"Anyone can tell me how to retrieve photos from my mobile phone? Here is the thing. The pictures were taken from my cell phone this morning. All I ever did was going to Settings, General and Restore because the phone was acting up. But the files did not come back. .Is there any way to recover my recent deleted pictures from my smartphone? Thanks in advance!"
Question like above asked again and again on Internet. The best way to solve these problems is to restore your data from the backup. However, most people didn't backup mobile phone data, or at least not frequent enough. So is there any other way to recover files from Android Device?
The answer is definitely positive. The deleted data on the phone will remain there until something new is saved and overwrites it. So it's important to make sure that don't use the mobile phone to take any new photos or record any new videos.
First thing is to remove memory card from mobile phone, and put it into an external USB card reader, or insert it to a card slot if there's any on your computer.
To recover deleted files from internal memory of android phones such as samsung galaxy, LG Optimus G, HTC One, Sony Xperia, you may follow this tutorial.
Download Wiserecovery Software to recover your lost data.
Step 1
Download WiserecoveryPro Software
, install and launch it
.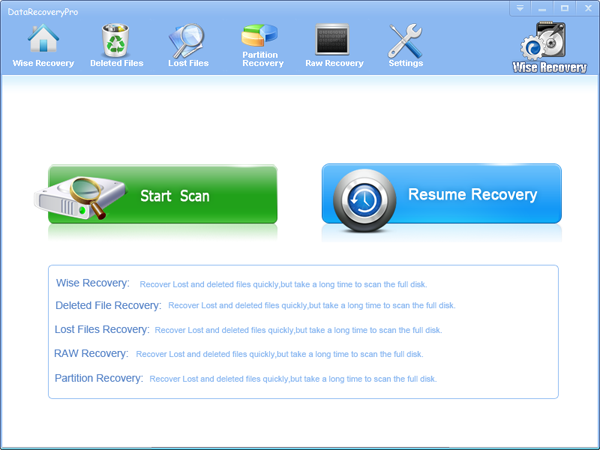 Step 2
Connect your cell phone to your computer. Select the drive which is cell phone. Click Scan. The software will quickly scan the phone to find all your target files.
Step 3
Preview and Recover Files. Find the files you want to restore in the scan result. Select them and click Recover.Set a destination folder to save the recovered files. You can find the recovered files in the destination folder. Attention: The destination folder can't be in the same drive as the drive you scanned.
WiseRecovery
Professional Data Recovery Software Recover Lost Data in 3 Steps