About us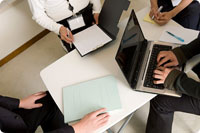 LionSea Software Co., Ltd is a modern enterprise integrating science and technology, industry and trade. Our top notch technical team is composed of excellent technologists, designers, programmers and testers. Our management team brings extensive experience in business, management and software development to our enterprise.
We adhere to the principle:" User First, Product Excellent, Brave in Innovation and Never Stop Improving". Our company faces huge demand and is successful in heated competition at home and abroad with other software companies. We teamwork efficiently and produce high-quality, dependable software.
Our management goal is to constantly improve product quality to deliver the best product to our customers.

WiseRecovery is an easy-to-use data recovery software that recovers lost and deleted data. It helps in cases of hard drive corruption or formatting, virus attack, malfunction etc. Every Day, WiseRecovery helps hundreds of users recover their lost or deleted data, files from hard drive or other storage media due to deletion, corruption or formatting of any storage device. WiseRecovery supports 600+ file formats, almost all file system(FAT, NTFS, HFS, UFS, exFAT). WiseRecovery is everything you need to get lost data back. Simple procedure! Amazing effect!

When registering for our services, you need to provide personal information, such as your account, e-mail, and credit card number or other payment information etc.. We use the information we collect to provide the services you request and to inform you of other services offered by LionSea Software. We will never sell, rent, or lease our customer lists to third party. We use cookies and other technologies to keep track of your interactions with our website and services to offer a personalized experience.
WiseRecovery is backed by ClickBank's guarantee of quality customer service. ClickBank will be happy to help you if there is any problem with your purchase. Your credit card statement will show a charge from ClkBank*com.
Your credit card statement will show a charge from ClkBank*com.
Any questions, please contact us via:support@WiseRecovery.com
Company Address:JianCaiCheng West Road, ShangAo Building, 2B-903, Haidian District, Beijing, 100096, China