You may lose a MKV file
Nowadays there is growing awareness of the trouble caused by data loss. Everything has two sides and digital media is not an exception. It has both advantages and disadvantages.
Many of us have encountered an embarrassing situation where we search for a certain file in our computer only to find that we have deleted it a few days before. Have you ever lost a MKV file? You may lose a MKV file due to these issues: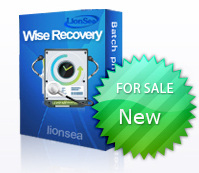 You just deleted it and emptied the recycle bin
Corruption of storage mediums
You formatted your hard drive accidently
Virus infection of MKV videos
The partitions changed or damaged.
Sudden power interruption on your computer.
What you can do
Once you've mistakenly deleted an important data, you have to quit using the system. You have to pinpoint the actual source from where the data was deleted. It may be from any of the folders in your system's hard disk. It can also be from a USD device or memory card. Whichever is the case, you have to stop using your computer and be ready to take the next action. You don't need to save new files on the USB device or memory card since you can easily overwrite the lost data if you do so. If you deleted the data from any of the folders on your hard disk, you need to check the system's recycle bin. In most cases, the deleted file will still be there. All you need is to right-click it and choose the "restore" button. However, you may run into troubles if you happen to empty the recycle bin. You can still recover the lost data by taking the next step.
Wiserecovery is such an easy and reliable tool, which can help you get back the deleted, corrupted, formatted and lost MKV files from hard drive or partition. Download the software and follow the guide to recover MKV files with only 3 steps.
How to do MKV file recovery
Download WiseRecovery here: http://www.wiserecovery.com/download.php
Run WiseRecovery software, and click on Start scan.
Choose the drive to start scanning.
Now, the scanning process will commence. After scanning, list of file types will be displayed in the left pane.
Click each file type to view files in it. You will see thumbnails when you click on the file type.
You can either recover all or selected files by clicking the Recovery button.
Professional Data Recovery Software, Recover Lost or Deleted Files in 3 Steps