Anyone who has ever used a computer for any length of time has experienced the stomach-dropping feeling of losing important files through bad karma or use Delete key discretion. Sometimes, though, what's lost can be found again.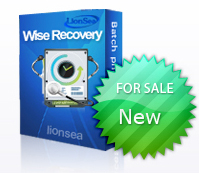 Method A:
Double-click on the Recycle Bin in Windows or the Trash on Mac to see if the file is still there.
If you find the file, drag it to the desktop. Return the file to its original location in Windows, click on the file and select Restore from the drop-down menu.
If the file is no longer in the Recycle Bin or Trash, look for backup. If your PC is on a network that has regular backups, check with the system administrator to see if it is possible to retrieve the saved copy of the file.
Method B:
Try using a commercial file-recovery utility that scans the disk for recognizable data (you can buy one for less than $100). When you delete a file, the operating system probably won't erase the actual bits from the disk until it needs them for something else; therefore, you may be able to recover some data.
WiseRecovery is a good choice. WiseRecovery is a powerful data recovery software which can help you recover almost all kinds of data loss. With it your files, photos or important documents are safe even if there is something wrong with your computer.
Download WiseRecovery here: http://www.wiserecovery.com/download.php
Run WiseRecovery software, and click on Start scan.
Choose the drive to start scanning.
Now, the scanning process will commence. After scanning, list of file types will be displayed in the left pane.
Click each file type to view files in it. You will see thumbnails when you click on the file type.
You can either recover all or selected files by clicking the Recovery button.
Professional Data Recovery Software, Recover Lost or Deleted Files in 3 Steps