When you uninstall a program on your desktop or laptop computer, there may come a time when you need to use the program again. Fortunately, you can use Microsoft's "System Restore" to revert your computer to a time when the program was installed on your computer. System Restore routinely creates "checkpoints" and creates images of your computer's state, including installed applications. After you restore your computer to a date before you uninstall the program, you will be able to use the program again. Programs can be deleted by accident or because you think you don't need to use them anymore. Computers have three ways of restoring deleted programs, depending on the type of program it is. You can restore a program from the trash bin if it has not been permanently deleted yet, use the system restore and use an advanced recovery. These methods apply to Windows Vista and 7.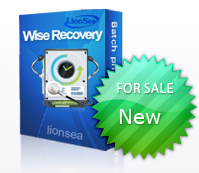 Launch System Restore by right-clicking "My Computer," selecting "System Protection" and then "System Restore."
Click "Next" in the window titled "Restore system files and settings."
Select a restore point that is earlier than the date that you removed the program. Click "Next" again. The computer will restart and restore the removed application.
Method B:
It is important to use the right recovery software. Some undelete programs are designed only to restore photos which have been deleted.  While some others can not only recover photos undeleted but also those corrupted, lost or formatted. Here I recommend WiseRecovery to you. WiseRecovery can do a scan and show the photos need to be recovered so that you can choose which one you need to recover. This makes the recovery more efficient and convenient!
WiseRecovery provides an effective memory card data recovery solution to recover data after memory card format. It helps computer users to recover images, audios, videos, and other multimedia data from formatted memory cards under Windows 2000/XP/2003/Vista/2008/7/8.
Download WiseRecovery here
http://www.wiserecovery.com/download.php
Install it and launch it. Click the "Start Scan" button on the main window of WiseRecovery.
You can see the list of all volumes found on your computer, select the exact drive and click the "Next" button to start scanning. If you can't see the drive, please make sure your external drives are connected, and click 'Refresh' button.
It will take about 2-10 minutes to scan, it depends on your disk size and files amount on the disk. After scanning is finished, you can preview text document and picture files.