With most laptop computers, you can restore the OS back to factory settings by using a recovery disk. The Acer Aspire One series of netbooks do not have an optical CD or DVD drive, so a recovery disc is not an option. Instead, the Aspire One series includes a built-in partition on the hard drive that already has all of the recovery information. You can quickly restore your Acer netbook back to its original condition by accessing the partition and running the recovery tool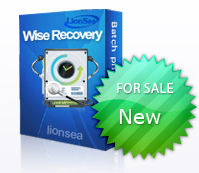 Method A:
Consider what data you still need from your Acer Aspire One's hard drive. Save the files to an external USB device.
Restart the Acer Aspire One's operating system. Wait for the Acer logo to appear on the LCD screen.
Press the "Alt-F10″ keys at the same time to bring up the recovery menu. Press "Enter."
Click "Next." Follow the prompts that appear on the screen to restore the operating system back to factory settings.
Use the drop-down boxes to select the time zone and language information for your Acer Aspire One. Restart the netbook when you are prompted to finish restoring the computer.
Connect the external USB device to your Acer Aspire One and transfer the data you saved earlier back to the netbook.
Method B:
It is important to use the right recovery software. Some undelete programs are designed only to restore photos which have been deleted.  While some others can not only recover photos undeleted but also those corrupted, lost or formatted. Here I recommend WiseRecovery to you. WiseRecovery can do a scan and show the photos need to be recovered so that you can choose which one you need to recover. This makes the recovery more efficient and convenient!
WiseRecovery provides an effective memory card data recovery solution to recover data after memory card format. It helps computer users to recover images, audios, videos, and other multimedia data from formatted memory cards under Windows 2000/XP/2003/Vista/2008/7/8.
Download WiseRecovery here
Install it and launch it. Click the "Start Scan" button on the main window of WiseRecovery.
You can see the list of all volumes found on your computer, select the exact drive and click the "Next" button to start scanning. If you can't see the drive, please make sure your external drives are connected, and click 'Refresh' button.
It will take about 2-10 minutes to scan, it depends on your disk size and files amount on the disk. After scanning is finished, you can preview text document and picture files.